After a shaky 12 months, foreign investors are beginning to return to China.
Faced by a wall of geopolitical and macroeconomic uncertainty – a zero-Covid policy, an increase in tensions with the US, tightening regulatory scrutiny and the weakness of the Real Estate sector – investors in the world's second largest economy have spent much of the past year looking for a better home for their capital.
Equities were hit particularly hard. The selective Hang Seng China Enterprise —the benchmark index of the Hong Kong Stock Exchange— for instance, fell 22% in 2021¹(see graph below). The so-called BATs stocks², the darlings of growth investors, saw similar declines.
Hang Seng China Enterprises Index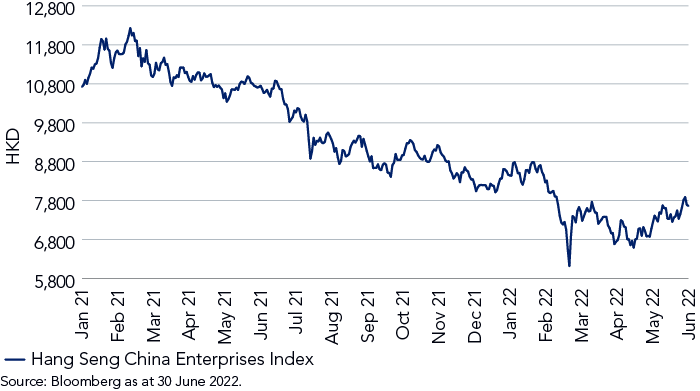 But there are signs that the tide may be beginning to turn. In April, China's central bank introduced a wave of measures intended to support the economy. Among these was a reduction in the levels of reserve requirements for banks, along with a record cut in its mortgage interest rate. There are also indications that a previous regulatory crackdown on Chinese tech stocks has run its course.
Now, investors have begun to respond accordingly. Foreign inflows into China's stock market logged in at roughly RMB40bn (US $6bn) this year, putting holdings above levels in early March when the sell-off began, according to Financial Times data³.Likewise, the benchmark CSI 300 index of companies listed on the mainland has climbed 13% since its low for the year in early May4(see graph below).
Shanghai Shenzhen CSI 300 Index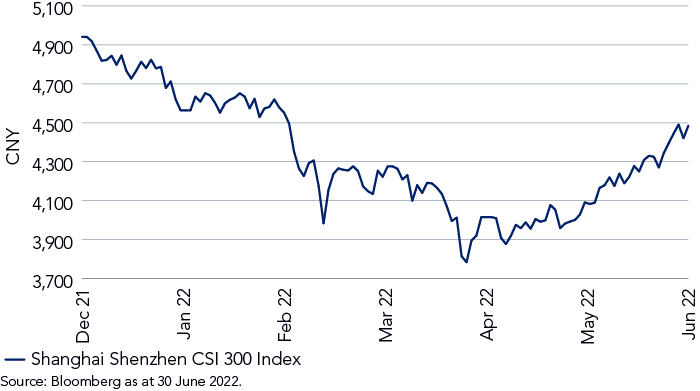 For investors who stayed their course during the China sell-off, this marks something of a watershed.
Jonathan Pines, manager of the Federated Hermes Asia ex-Japan Equity strategy, notes that, despite the earlier headwinds, not all managers and analysts felt it was time to stop investing.
"There were those of that believed this is was precisely the time to bet on the Asian giant," he says. "This was the case for our strategy, where we viewed those falling prices as an opportunity rather than a risk."
This type of behaviour is known in the investment world as being contrarian. That is, those savers who invest in the opposite direction to the general sentiment of the market. When the majority of market players buy, the opposing investor sells. Whereas if a bear market occurs, the contrarian investor is dedicated to looking for opportunities to buy.
"For more than a decade, being a contrarian has been synonymous with investing in value. Today, things are less clear cut," says Pines. "The sell-off in Chinese stocks offered us an excellent opportunity to buy higher-quality stocks at bargain prices."
As the graph below demonstrates, the Hang Seng was trading at a multi-decade low relative to the world, but has nudged up in recent months.
The China valuation discount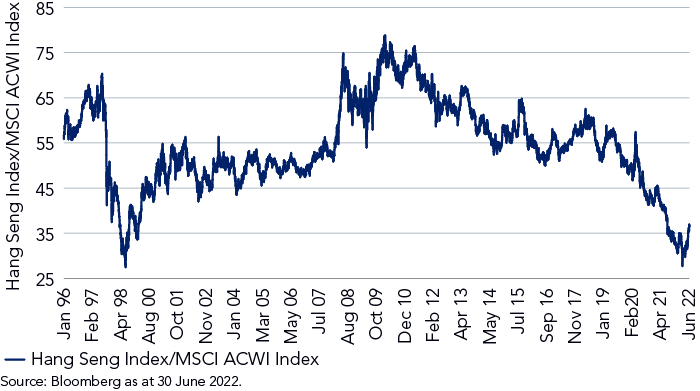 The objective of Pines' strategy is to achieve long-term capital appreciation by investing primarily in a portfolio of equity securities issued by companies in the Asia region, excluding Japan. The management team invests in stocks that are undervalued by the market and have future earnings potential. The investment process takes into account environmental, social and governance (ESG) criteria. In addition, the manager is involved in promoting good practices in the companies in which he invests, which is a hallmark of Federated Hermes Limited.
Currently the main positions in the fund's portfolio are held by the technology company Samsung Electronics, the e-commerce giant JD.com, the search engine Baidu and the semiconductor companies ASE Technology and TSMC, according to the fund's file as at March 31, 2022. If we look at the sector exposure, information technology (with a weight of 25.90%), discretionary consumption (20.70%) and financial (10.95%) stand out.
1 Source. MSCI and Bloomberg as at 30 June 2022.
² BAT is an acronym referring to three of the largest tech companies in China: Baidu Inc. (BIDU), Alibaba Group Holding Ltd. (BABA), and Tencent Holdings Ltd. (0700.Hong Kong, TCEHY).
3 Financial Times: 'Investor flight from China reverses as Beijing shifts sentiment', as at 13 June 2022.
4 Ibid. Footnote 1.