Responsibility Report 2020
The Responsibility Office acts as a hub of expertise and support to assist every employee in our business to work towards our mission of delivering holistic returns:
It holds each department accountable for ensuring that we act as a responsible firm and keeps the interests of clients and their beneficiaries at the centre of what we do.
It works with the Investment Office to ensure that our investment and engagement teams integrate stewardship and ESG factors into their activities.
It develops and leads the implementation of our advocacy positions.
During the course of our 2020 Responsibility Report, we document why transparency should not stop at investment. As a firm, we should strive to meet the expectations we have of others – and so, we explore our responsible business practices, spanning our environmental footprint and supply chain to our inclusion policy and governance.
Recognising that ESG investing has entered the mainstream, we dive into two key topics – climate change and impact investing – to demonstrate how we integrate and engage on material issues across public and private markets. In addition, we explain how we advocate for the interests of our clients and the need for greater responsibility throughout the investment industry in our interactions with policymakers.
Find out more about the role of the Responsibility Office here
Federated Hermes as a responsible firm
We believe that, while our primary purpose is helping beneficiaries retire better by providing world-class active investment management and stewardship services, our role goes further.
We believe that we have a duty to deliver holistic returns – outcomes for our clients that go far beyond the financial and consider the impact our decisions have on society, the environment and the wider world. In doing so, we invest our clients' capital to create wealth sustainably – aiming to deliver sustainable long-term growth, while at the same time helping to build a better society for all.
As an active investor, we believe we have an important role to play in engaging companies to encourage responsible business practices. As a result, we frequently engage companies on a range of issues from accelerating the transition to a net-zero carbon economy to good corporate governance and the protection of human rights in their workforces, supply chains and the communities in which they operate.
It follows then that we are keenly aware of the need to act as a responsible firm ourselves. In this report, we document our responsible business practices, spanning the Federated Hermes Pledge, our governance, our people, supply chains, communities, our environment footprint, tax and accounting and audit.
Find out more about our responsible business practices here.
Responsible investment in practice
At the international business of Federated Hermes, we believe there are two mutually reinforcing strands of responsible investment management: responsible investment and responsible ownership. Within these strands, we aim to generate sustainable wealth creation for the end beneficiary – the investor – by delivering both robust investment returns and positive social and environmental impact.
This focus on the delivery of additional and measurable societal and environmental benefits that will endure is one that is increasingly at the heart of our approach to investing. It is this understanding that informs our belief that we have a duty to consider the longer term ESG-related risks and opportunities when investing.
At the international business of Federated Hermes, we integrate a wide range of ESG factors into our investment process and engagement efforts. Indeed, our stewardship service, EOS at Federated Hermes ('EOS'), has established a detailed engagement plan – with themes ranging from human and labour rights to pollution, waste and the circular economy – for 2020-2022. In the inaugural Responsibility Report, we focus our attention on three themes: climate change, impact investing and advocacy, drawing on case studies to demonstrate responsible investment in practice.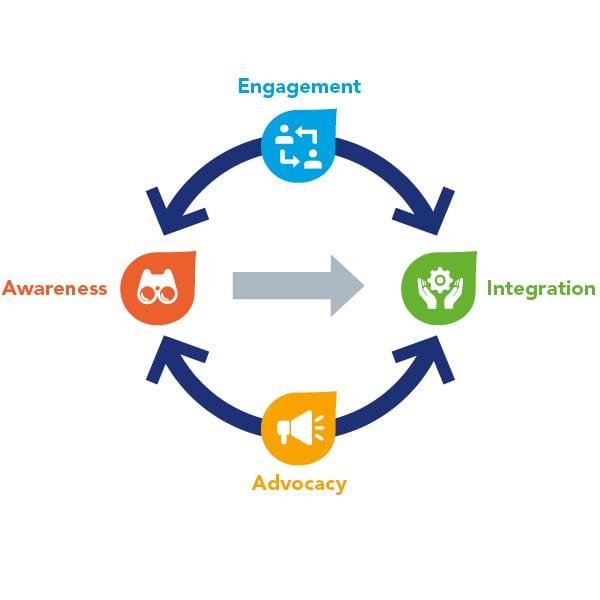 At the international business of Federated Hermes, we engage constructively with regulators and policymakers globally to address environmental, social and other market failures that may prevent the financial system from operating in the best interests of its ultimate asset owners.
We seek to go beyond the minimum standards set by regulators and to demonstrate and share best practice. We contribute to policy discussions both directly and in collaborative fora and initiatives, including the Principles for Responsible Investment, the UN Environment Programme – Finance Initiative, the Institutional Investors' Group on Climate Change, the International Corporate Governance Network and the Financial Reporting Council's Investor Advisory Group.
In this report, we demonstrate our advocacy work on the Stewardship Code as well as the public policy work conducted by EOS in 2019.