Figure 1: Share of total US imports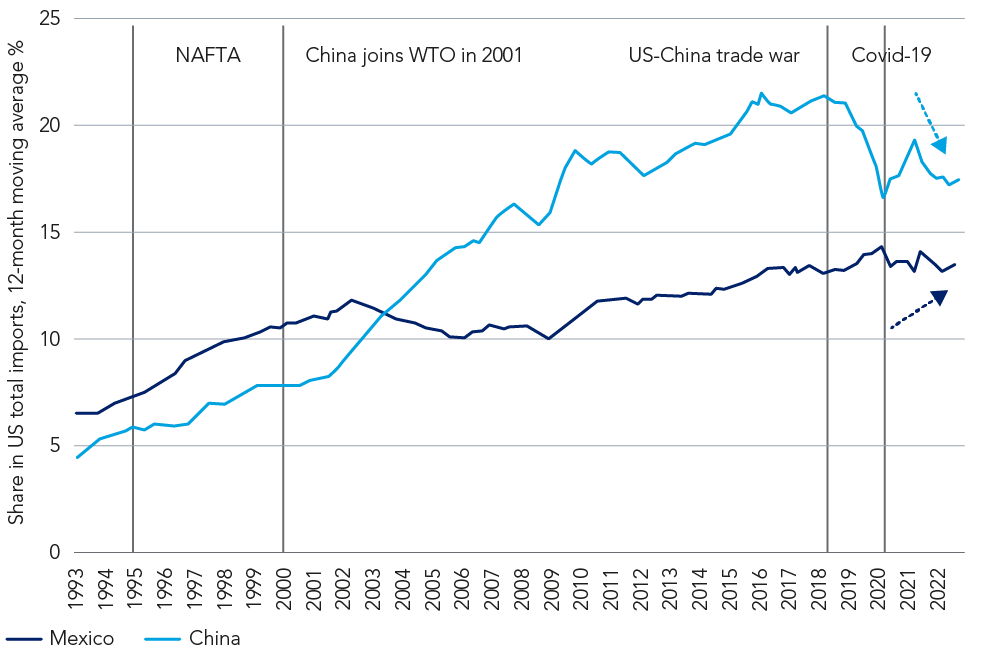 Source: BofA Global Research, Haver, US Census Bureau, as at January 2023. Reprinted by permission. Copyright © 2023 Bank of America Corporation ("BAC"). The use of the above in no way implies that BAC or any of its affiliates endorses the views or interpretation or the use of such information or acts as any endorsement of the use of such information. The information is provided "as is" and none of BAC or any of its affiliates warrants the accuracy or completeness of the information.
Over the last two decades, globalisation has encouraged the offshoring of production across the world on the back of lower labour costs. This trend has led to hyper-specialisation in global supply chains. However, the fragility of this global trading system has been exposed in recent years by the US-China trade war and the Covid-19 pandemic, as well as Russia's invasion of Ukraine.
These upheavals have accelerated a shift towards 'nearshoring' – the practice of transferring business operations to a nearby country as opposed to further away – and several developing countries stand to benefit from this shift, including Mexico.
Mexico – which has nominal GDP per capita of about $10,0001 – posted real GDP growth of 2.7% in 20222. The country's 130 million population includes 72% people below 45-years-old3. It has solid macroeconomic fundamentals, including an independent central bank and stable fiscal accounts.
While the entrance of China, with its low labour costs, to the World Trade Organisation (WTO) in 2001 curbed the growth of Mexico's exports to the US, as shown below, the rise in nearshoring opportunities, as companies reconfigure supply chains, should help Mexico regain market share.
1Mexican Secretariat of the Treasury and Public Credit
2 National Institute of Statistics and Geography (INEGI)
3 National Institute of Statistics and Geography (INEGI)