On 22 September, the ECB announced that it would accept SLBs as collateral for its Eurosystem credit operations from 1 January 2021. SLBs will also be eligible for the Asset Purchase Programme (APP) and the Pandemic Emergency Purchase Programme's (PEPP's) open-market operations if they are compliant with existing eligibility criteria.
While green bonds have featured in the central bank's programmes for many years, both the APP and PEPP were barred from purchasing bonds with uncertain coupon-payment paths. The coupons of SLBs are linked to the achievement of key-performance indicators that are in turn connected to sustainability objectives – the Sustainable Development Goals (SDGs) are one example – which meant they were excluded from the APP and PEPP. From 1 January, this will no longer be the case.
The SLB market is clearly in its nascency: it is barely 12 months since Enel, an Italian energy company, issued the world's first SLB. Yet like the broader sustainable fixed-income market – which includes green bonds, social bonds and green asset-backed securities – the SLB industry is growing rapidly. In the space of just a few weeks, numerous companies – including Suzano, Chanel, Burberry and Novartis – have issued SLBs. We have no doubt that the ECB's announcement will ensure the market continues to grow.
Figure 1. The sustainable-themed bond market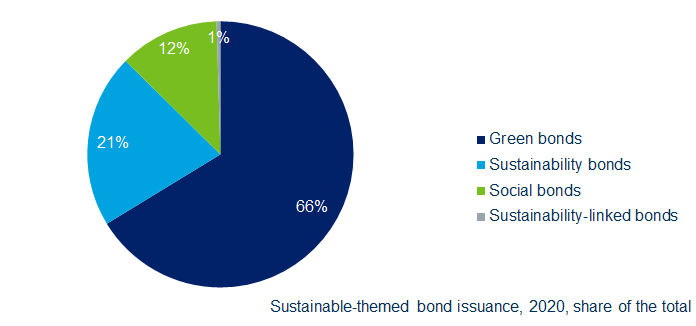 Source: Bloomberg, Bloomberg New Energy Finance, as at 28 August 2020.
The ECB's statement sent a strong signal about the role it can play in addressing the burgeoning climate crisis. By making what we see as an exceptional exception to its CSPP rules, we believe that the ECB has demonstrated its unqualified support for the sustainable finance industry that goes beyond its backing for the SDGs and the development of the EU Taxonomy.
Above all, it indicates that the ECB – like us – believes that companies must decarbonise their activities if they are to address the climate crisis and create a greener, more equitable future. This is clearly something that must happen at the company level, not just at the green-finance project level.
At the international business of Federated Hermes, we firmly believe that engagement is an important way to bring about positive change in companies. To learn more about how we use stewardship to follow through on our mission of delivering sustainable-wealth creation, read the latest case study on our engagements with Enel.