Hestia, our residential investment platform, launched in December 2020 with two existing build-to-rent assets: the Cargo Building in Liverpool and Pomona Wharf in Manchester. It will also include Axion House in Lewisham, South-East London, which will provide 141 affordable new homes – 116 for shared ownership and 25 meeting affordable rent standards in London. The development, which will also feature commercial space and landscaped public realm, is due for completion in late 2023
affordable new homes in Lewisham
In April 2020, we implemented a buddy system for all Cargo Building and Pomona Wharf residents vulnerable to COVID-19 or self-isolating. There are currently 46 buddies at the Liverpool property and 29 at the Manchester development. The programme also enabled people to consult onsite mental health practitioners for guidance on managing anxiety and other concerns.
buddies at the Liverpool property
buddies at the Manchester property
The Inspiration for Innovation Schools project, a venture between our Silverstone Park development and social enterprise Gaia Innovation, completed its second year. The initiative works with three local secondary schools and 30 volunteers from companies in sectors including motorsport, computing and media to inform students about local career paths.
Towards net-zero emissions the international business of Federated Hermes and MEPC became signatories to the Better Building Partnership Design for Performance programme, which aims to ensure that the real-world efficiency of properties matches the intent of plans. We nominated two properties in our placemaking developments, 4 Angel Square located in the inner-city area of Manchester now called NOMA, and 11-12 Wellington Place, Leeds, to the initiative.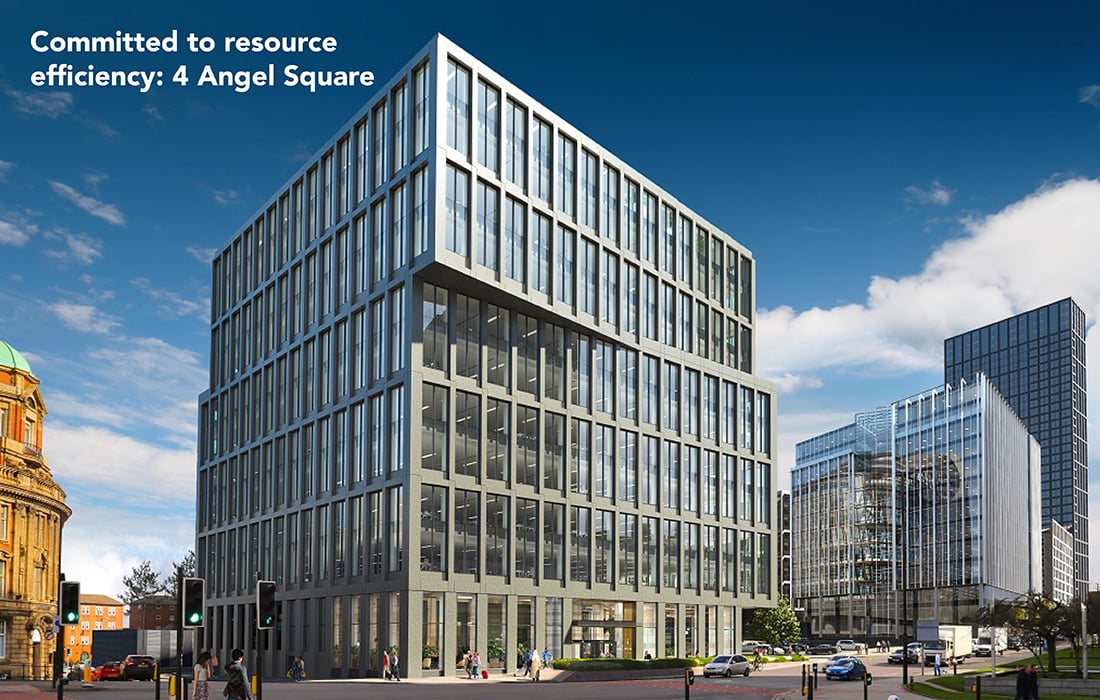 4 Angel Square, the first speculative net-zero office property in NOMA, is also on the way to becoming a Pioneer under the London Energy Transformation Initiative, a network of over 1,000 built-environment professionals working together to put London and other cities on the path to a zero-carbon future. The 200,000 square foot office building aims to achieve a BREEAM 'outstanding' rating and an Energy Performance Certificate ranking in Band A.
Sustainability benchmarking
The Cargo Building became the world's first residential building to achieve the 'Excellent' rating under the new BREEAM In Use residential certificate. BREEAM was created to drive high standards of sustainability and operational performance in residential buildings. In Leeds, office properties at 5-6 Wellington Place, one of our placemaking developments, achieved BREEAM In Use 'Very Good' certificates.

Centre:MK, the shopping centre in Milton Keynes we manage on behalf of AustralianSuper and BTPS, retained its five-star rating in the annual assessment by GRESB, the global ESG benchmark for real assets. Importantly, it was also ranked number one in the UK retail shopping centre sector. Among our portfolios, our BTPS mandate also achieved five stars and was listed number one among peers in the development category, and the Federated Hermes Property Unit Trust was ranked second among peers.
Meaningful placemaking is a cornerstone of our real estate investment philosophy. Since most of HFML's property investments are concentrated in urban areas, how we manage those developments will have deep and enduring effects on these locations.
We define 'meaningful cities' as places where people want to work and live, and which foster civic pride and a sense of belonging among inhabitants. Peaceful, productive and diverse, they enable citizens to live fulfilling and connected lives. Constructed with respect for the environment and local history, they help preserve Manchester NOMA, Glasgow Skypark, Liverpool & Manchester Build-to-rent strategy, Milton Keynes Centre:MK, Leeds Wellington Place, Northamptonshire Silverstone, Birmingham Paradise Circus, Oxford Milton Park, Central London King's Cross natural capital and ensure historical continuity in the built environment. In turn, meaningful cities are likely to sustain higher economic growth by attracting and retaining capital and talent, helping to provide a better return for investors.
Since 2008, we have undertaken seven major urbanregeneration schemes and developed two major business parks for science and technology firms. These projects cover 19m square feet and command an estimated end value of £13bn. They exemplify our approach to meaningful placemaking and are proof of our ability to deliver sustainable wealth creation.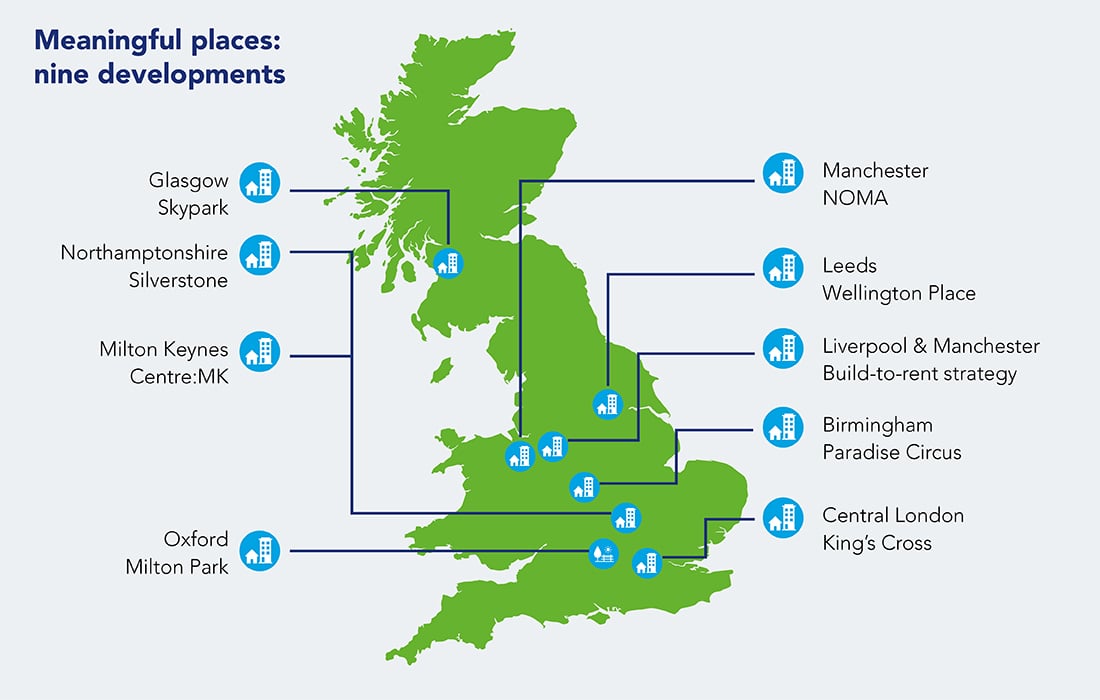 The transformation of King's Cross, the largest urban regeneration project in Western Europe, is well documented. The rejuvenation of both the inner-city areas of Manchester and Leeds, NOMA and Wellington Place respectively, has also received widespread recognition. Another thriving project is Paradise Circus.
Paradise is a new urban neighbourhood in the heart of Birmingham comprising offices, homes, public spaces and squares, restaurants and other amenities. Looking beyond the pandemic, it will be a place to do business, socialise and enjoy community events.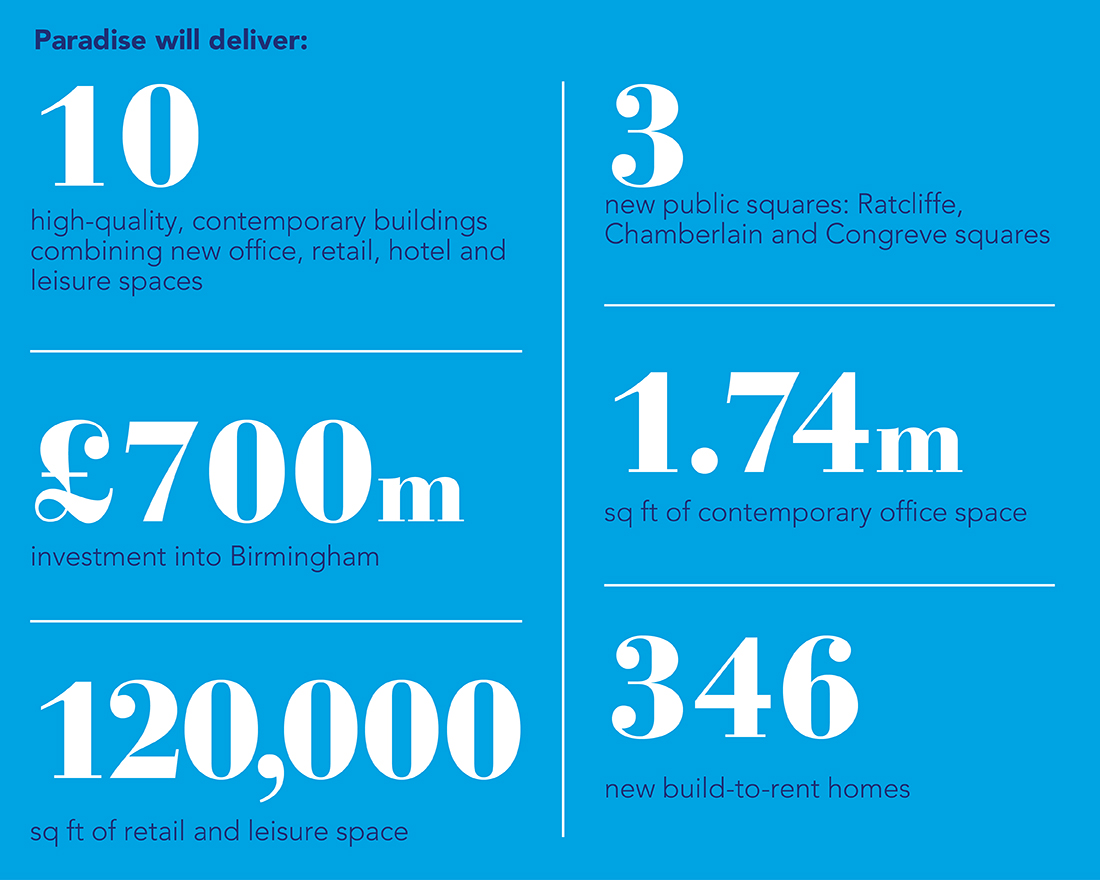 In 2020, a statue of Sir Thomas Attwood, the Victorian banker and MP for Birmingham who drove the 1832 Reform Act, was reinstated on the steps of Chamberlain Square in Paradise Circus after being stored during construction work.