The Portfolio Managers at Hermes European Equities have invested with conviction for a combined 71 years. After the recent 10-year anniversary of their flagship Hermes European Alpha Strategy, they share the rules behind their recipe for investment success.
Outperformance on a plate
Since its inception on 18 June 2007, the Hermes European Alpha Strategy has returned 5.46% per year gross of fees compared with the FTSE All World Europe's annualised return of 2.71%, while its assets under management have grown from €57m to €2.5bn. The team's high-conviction, long-term approach is evident in a high active share and low turnover (see figure 2).
Figure 1. Performance of the Hermes European Alpha Strategy since inception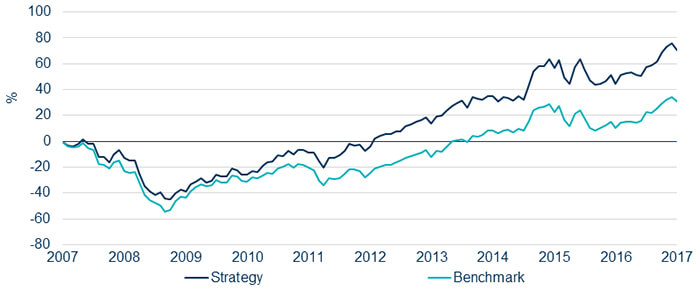 Source: Hermes as at 30 June 2017. Performance shown is that of the Hermes European Alpha Strategy since its 18 June 2007 inception, gross of fees, in EUR. Past performance is not a reliable indicator of future results.
Here each Portfolio Manager from the team shares a rule that has been vital in generating the Strategy's 10-year track record, which has satisfied regular clientele and attracted new customers.
Rule 1: Use the finest ingredients
Chi Chan,Lead Portfolio Manager, Hermes Eurozone Strategy
There is a bewildering array of stocks to choose from in the marketplace. We could simply pick the cheapest ones, as it's very easy to compare prices on a screen, and occasionally get lucky with a bargain, but many cheap stocks are cheap for a reason. Like poor-quality ingredients that compromise fine cuisine, they may be attractive on the outside but lacklustre on the inside and undermine portfolio performance in the long run.
We seek stocks whose enterprises, financial strength and prospects capture our imaginations, and invest when we are convinced that their qualities are not being recognised by other investors. This requires an open mind. For example, in 2013 we made a successful investment in Kinnevik, the Swedish investment company which is the largest shareholder in online retailer Zalando, an idea whose origin was my vegetarian partner's search for non-leather shoes (we closed the position in February 2015, when the stock reached our assessment of fair value). And even amid common sources of ideas, excellent companies can hide in plain sight. A very poorly attended presentation by Valeo, a French auto-parts supplier, at a broker conference in 2012 led us to believe that its global reach and in-demand products were not being appreciated by other investors.
Much of the difference between a good meal and fine cuisine is created by the ingredients used in the cooking. A discerning investor, like an expert chef, will select the best ideas available before applying their discipline.
Figure 2. A decade of the Hermes European Alpha Strategy in figures
| | |
| --- | --- |
| | |
| | |
| | |
| | |
| Turnover (past five years) | |
| Average holding period of current portfolio | |
| Upside / downside capture | |
Source: Hermes as at 30 June 2017. Performance shown is that of the Hermes European Alpha Strategy since its 18 June 2007 inception, gross of fees, in EUR. Past performance is not a reliable indicator of future results.
Rule 2: Preparation is key
Martin Todd,Co-Portfolio Manager, Hermes European Alpha Strategy
Although our minds are always open to new investment opportunities, our selective approach and intensive fundamental analysis of companies mean that few ideas are included in our recipe in any given year. To research a company, we assess its strengths and weaknesses – including environmental, social and governance (ESG) considerations – and prospects for future returns. Our proprietary valuation model indicates what is factored into the share price and compares it with peers. And once we invest, the company must continue to earn its place in our recipe. We monitor newsflow and quarterly results to make sure that its performance is aligned with our expectations, and analyse the progress made by its competitors. We conduct 360-degree reviews, in which another team member leads a re-evaluation of the stock to ensure that the idea remains fresh.
These reviews are important when negative news adversely impacts a stock and we need to consider whether our original investment thesis remains intact. For instance, our rationale for investing in Adidas in 2009 was that it would benefit from a growing emerging-market consumer base, but in 2014 the geopolitical strife centred on Russia and problems in the golf and basketball markets caused its shares to fall by 40%. A detailed review of the situation led us to believe that our thesis was still strong, and we were rewarded: Adidas's share price more than tripled from this low point, rising 210% by 30 June.
Like any chef that takes cuisine seriously, our conviction in each stock that we invest in is based on meticulous preparation: research, testing and re-testing.
Rule 3: A longer time horizon enhances the flavours
Tim Crockford, Lead Portfolio Manager, Hermes Europe ex UK Strategy
Over time, we have seen incremental adaptations by companies amount to decisive competitive advantages. However, brokers' stock-price targets are typically set 12 months ahead and hover within a range of 15% above or below the current level, and this seems to  prevent many analysts from considering long-term possibilities. Dynamics like this result in the impacts of long-term corporate change often being underappreciated by the market.
Unexpected newsflow can trigger stock-price volatility in the short term, but if a company's trajectory and broader industry trend seem consistent, we can be confident that the long-term gains should more than offset any short-term noise. This is illustrated by the performance of companies that we have held for many years.
In 2007 we first invested in ASML, a supplier to the semiconductor industry, when we could see that it had a bright long-term future. As the first smartphone was released and talk of the internet of things grew louder, we had no doubt that peoples' lives would become more interconnected with devices. At the same time, technology hardware is a cyclical sector, as manufacturers build capacity and then ease production as that capacity gets filled. We were confident that as long as ASML could weather the downturns, it would generate strong long-term returns. This has been the case, as its stock price has increased five-fold since then.
Similarly, in 2013 we bought Amadeus, a software and services provider in the travel industry. For many years, airlines have been under pressure to improve efficiency and Amadeus' Altea software has enabled many leading carriers to achieve better pricing, booking and inventory management. By linking airlines with travel agents, this software is a must-have channel for carriers competing for the most lucrative passengers. Now Amadeus aims to roll out a similar offering to the hotel industry. This innovation has been funded by Amadeus's highly cash generative, market-leading GDS platform. Since we initially purchased the stock in November 2013, it has risen by 105%, including dividends.
The average holding period for the stocks currently held in our portfolio is 3.6 years, demonstrating our willingness to be patient in order to exploit the power of change. As the flavours of high-quality ingredients can become more deeply enriched with more hours in the pot, the valuations of high-quality companies can rise over long holding periods. An accomplished chef, like a successful investor, knows how long to put ingredients to work.
Rule 4: Concentrated flavours need to work in harmony
James Rutherford, Head of European Equities
We thoroughly research each stock that we invest in and, reflecting our conviction, assign high active weights to each of them. Like a successful recipe that thrives on a fine blend of carefully chosen ingredients, we like to see each stock impact performance. In contrast, passive strategies use a lot of lower quality filler that dilutes the more appetising flavours. We prefer all of the vibrant characteristics in our dishes to be evident.
But we are careful not to take this too far: too few ingredients could result in a less well-rounded dish at best, or a riot of extreme flavours at worst. Similarly, we believe that a highly concentrated portfolio can lead to inconsistent returns. We therefore aim to create a harmonious blend, reinforced by sensible diversification, that is monitored by the Hermes Investment Office – which, like the Michelin Guide, independently assesses our product to benefit consumers.
These four rules have been crucial in generating the returns we have served to investors for the past decade. In years to come, we will continue to use our time-tested recipe: aiming to select the finest stocks, carrying out thorough analysis before and after purchasing them, allowing their strengths to mature over long time periods and ensuring that their characteristics form a harmonious melange of flavours.