By pioneering global stewardship, developing innovative ESG strategies and advocating for a financial system that works for all, we have been at the forefront of investment and sustainability since 1983.
Investment and sustainability pioneers since 1983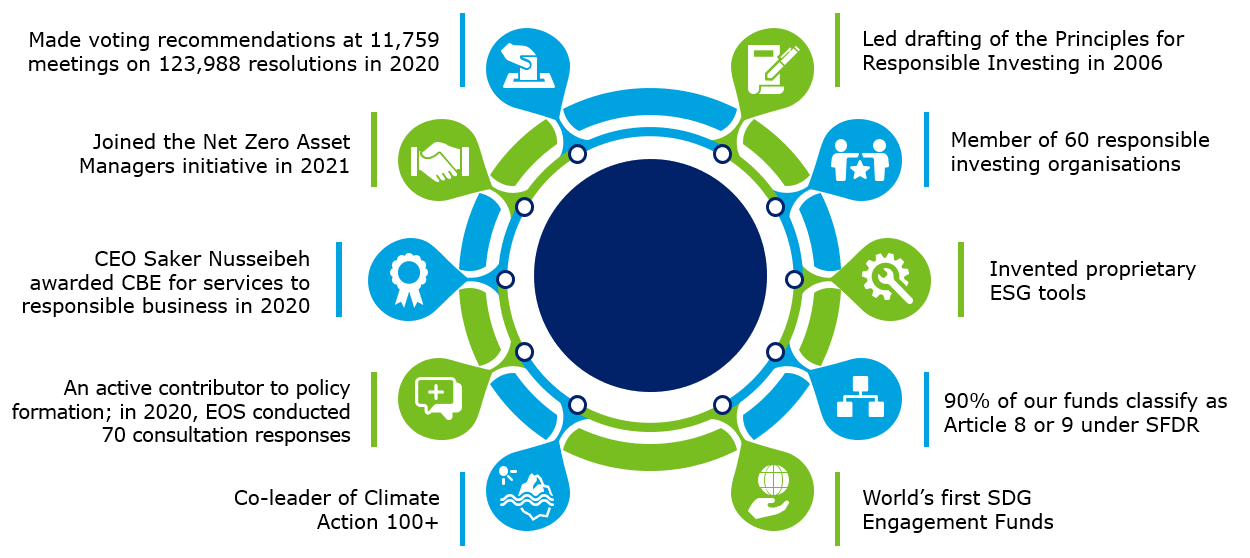 Source: Federated Hermes, as at 30 June 2021.
We aim to provide Sustainable Wealth Creation: using our unique investment approach to generate wealth through investments that enrich investors, society and the environment over the long term.
This purpose is overseen by Saker Nusseibeh, CBE, our CEO, and three instrumental operations: the Investment Office, our stewardship team in EOS at Federated Hermes, and the Responsibility Office.
To learn more, watch our video.
Three pathways seeking Sustainable Wealth Creation
Our unique investment approach provides three pathways focused on Sustainable Wealth Creation. In 2020, we reclassified our range of investment products in response to the changing needs of investors, regulatory developments and to clearly express our purpose.
In doing so, we developed three pathways for achieving Sustainable Wealth Creation: Active ESG, Sustainable and Impact. Equally powerful in fulfilling our purpose, they are defined by the outcomes our investors seek.
We enforce high standards in our efforts to deliver Sustainable Wealth Creation. To learn more about our approach, explore the infographics below.
Defining best-practice ESG
ESG investing is now mainstream. Which analytical tools and disciplines separate the best from the rest?
Each quarter, we provide evidence of our efforts to provide best-practice ESG investment, stewardship and advocacy.
Seeking clarity on sustainability? We provide definitions that we stand by.