Last week, China showed the first sign of a marginal easing of Xi Jinping's strict zero-Covid policy since October's confirmation of the leader's third term.
For investors, these developments offer a glimmer of hope in an otherwise gloomy period for the world's second largest economy.
Elsewhere, Xi Jinping and Joe Biden met on the sidelines of the G20 summit in Indonesia this week, and signalled a desire to improve US-China relations.
China's stocks surged this week after the People's Bank of China (PBoC) brought in a new support package to boost growth.
For the property sector, the 16-point rescue plan includes the extension of a year-end deadline for loan repayments, relieving the pressure of the sector's credit crunch. Commercial banks can now also issue letters of guarantees to 'high quality' developers, allowing withdrawals of up to 30% cash necessary for construction completion. The funds withdrawn can be used either for construction or project-related debt repayment. In response, the Hang Seng Enterprises Index jumped by 5% on Monday1.
Figure 1: Hong Kong's stock market responds to easing of zero-Covid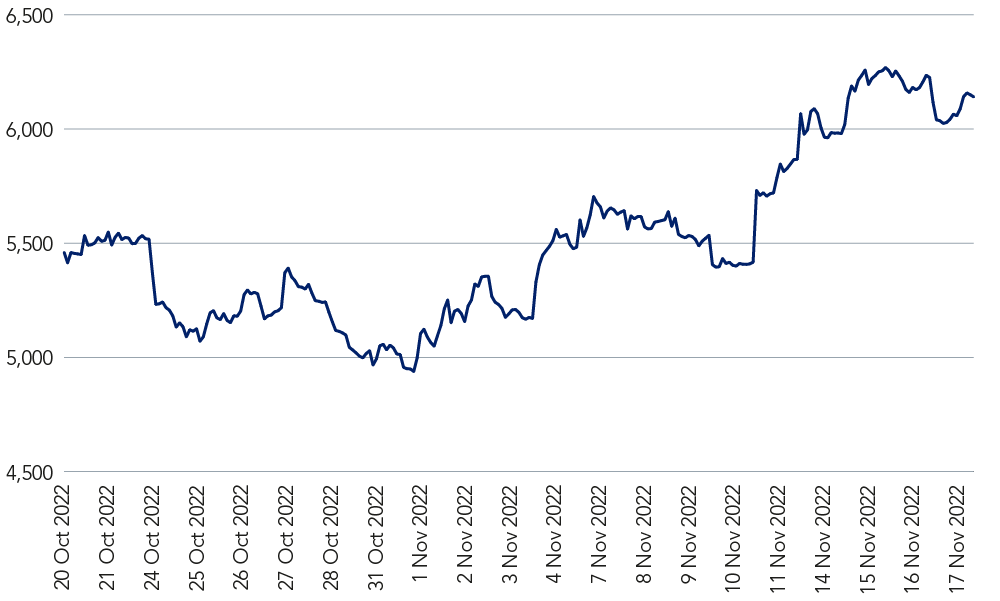 There are already signs that cities across the country have begun to tiptoe away from the more draconian of pandemic restrictions, in what many are viewing as an early 'test case' to see how regions fare in the face of less stringent mandates from Beijing.
Robin Usson, Senior Credit Analyst, Federated Hermes Limited, noted that investors would likely welcome the latest support measures but warned the commodity price response would be an important gauge of their success.
"The key to sustaining this rally in markets will lie in the recovery of the physical markets, which is closely linked to consumer confidence and, in turn, correlates heavily with the immutable Beijing zero-Covid policy", he said. "Any sign of recovery in the physical market over the next few months will determine whether this rally has legs".
Louise Dudley, Portfolio Manager, Global Equities, at Federated Hermes Limited, sounded a more cautious note. She highlighted 'precarious sentiment' amid recent volatility and warned that, with winter closing in, and the potential for further covid spikes, the curbs to economic growth for the country persist. "With house prices falling and industrial data also weaker than expected, the market may require further stimulus to overcome the bearish drag," she added.
Elsewhere in global markets, UK inflation hit a 40-year high, coming in at a historic 11.1%2, and surpassing consensus expectations made by the Bank of England. The latest reading comes off the back of rising food and energy prices, as the UK economy continues to wheeze through the cost-of-living crisis.
For further insight on Chinese Equities, please watch our latest video interview celebrating the ten-year anniversary of the Federated Hermes Limited Asia Ex-Japan strategy.