Biodiversity: a fragile equilibrium
The theme for this year's World Environment Day is biodiversity – one that has particular resonance today, as the coronavirus pandemic has brought into sharp relief the links between infectious diseases, environmental issues and social sustainability.
The current pandemic has highlighted our problematic relationship with nature. While the immediate priority is to deal with the public health crisis, a vital longer-term task is to examine our approach to biodiversity and the natural environment. Doing so is likely to reduce the incidence of infectious diseases and secure a more sustainable future (read more about this in our recent piece, 'The coronavirus and our relationship with nature'.
The climate crisis: a call to action
The world's attention may have been focused on the coronavirus crisis over the past few months, but it also has larger, uglier cousin: the global climate crisis that continues to unfold. Whether it is rampant bush fires in Australia, green algae in the Antarctic, or – positively – Venice's near-pristine canals, one thing is clear: we have another more pervasive challenge on our hands, and one where the effects are even less visible and tangible than those of the virus.
The urgency for action on the climate crisis could hardly be greater. The scientific consensus urges us to act quickly, effectively and in earnest if we are to limit the devastating impact that climate change will have on our planet.
In acknowledgement of this climate emergency, we frequently engage companies on a range of issues, such as accelerating the transition to a net-zero-carbon economy. We believe that capital markets have a key role to play in financing companies that are taking action on climate change, and long-term investors can also play an important part by engaging with companies to encourage and enable the transition to a low-carbon economy (read more about how we are investing for a better climate in our latest edition of 'Equitorial'.
Up until earlier this year, there was a sense that the world seemed to be sleepwalking into a climate catastrophe, exacerbated by the narrative that there was no money to accelerate the transition towards a greener economy. The aggressive spread of the coronavirus pandemic over the past three months has uprooted this argument by unleashing the fiscal floodgates and prompting a rapid change in societal activity.
All of a sudden, a more equitable, sustainable future seems a possibility. We believe that willing governments could:
Attach climate-friendly conditions where possible when fiscal sponsorship, subsidies and bailouts are targeted, perhaps to identified production sectors.
Design a post health crisis fiscal stimulus with a built-in condition to facilitate a rapid pivot for companies that need to align operations, strategy and capital expenditure with the net-zero transition.
A greener future: driving best practice
It also follows that we are keenly aware of the need to act as a responsible firm ourselves – something that extends to mitigating our carbon impact, reducing our energy consumption and decreasing our output of waste. To mark World Environment Day, we highlight the efforts of our firm in contributing to managing and mitigating the effects of climate change.
In 2010, we achieved the ISO 14001 in recognition of our efforts to manage our own operations as environmentally efficiently as we can. We maintained this standard when we moved offices in 2018.
We also measure and offset our own operational carbon emissions by working with Trees for Cities – a UK charity working at national and international scale to improve lives by planting trees in cities. For every tonne of greenhouse-gas emissions that we generated from our day-to-day operations and our business travel during 2018, verified carbon offsets of 824 tonnes of CO2 have been generated in 2019 by planting 2,200 trees.
Figure 1. Our carbon offsetting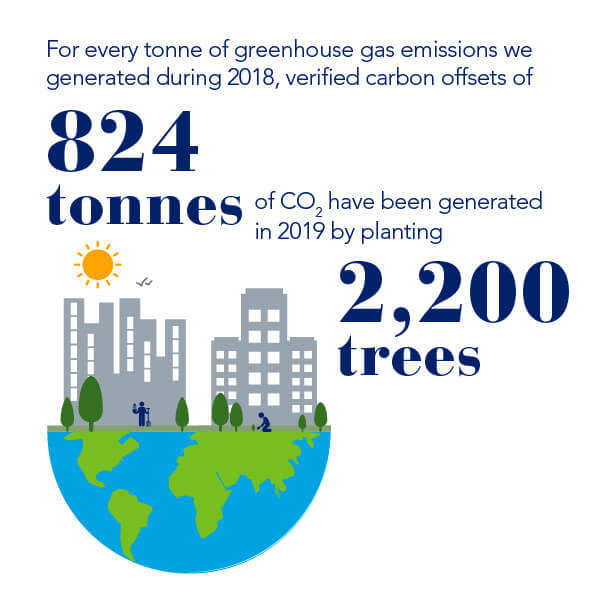 Source: Federated Hermes, as at June 2020. 
We also cut our annual energy consumption from 584,491 kilowatt hours (kWh) in 2018 to 452,443 kWh to 2019, reduced our paper usage from nine tonnes to eight tonnes and decreased our waste from 297,048 tonnes in 2018 to 146,166 tonnes over the same period.
Finally, we recognise that transparency and accountability are crucial in identifying and monitoring climate-related risks. As a result, we have welcomed the reporting recommendations made by the Taskforce on Climate-related Financial Disclosures and have released a report that lays out our approach to identifying and managing climate risks and seizing the related opportunities as a business.