Global air traffic (including forecast 2023-2025)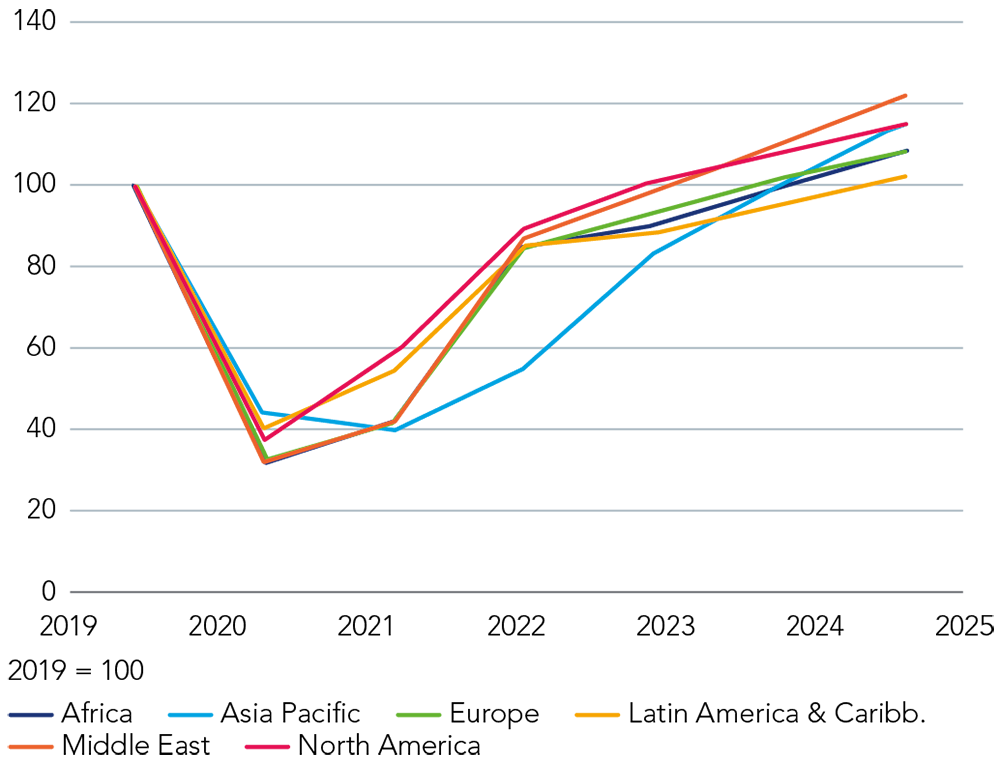 The growth of global air travel was temporarily paused by the Covid-19 pandemic in 2020 and has been in recovery mode ever since. This recovery has been somewhat uneven, with travel in the Americas and Europe returning significantly faster than in Asia. Asian governments were generally far more cautious about re-opening their countries to tourists and business travellers but have been gradually removing restrictions throughout 2022. The final 'coup de grace' to pandemic travel restrictions came in January 2023 as China effectively removed its international travel restrictions.
As a result, despite recession risk in the US and Europe, we expect 2023 to see continued growth in global passenger volumes on a relatively low post-pandemic base.
We think that the growth of global tourism is not just a 'reopening' theme but a long-term trend with important investment implications. Before the pandemic, China's airport traffic had been growing at 11% CAGR (2010-20191), and Indian domestic capacity had been growing at similar levels (around 11% CAGR 2009-20192).
The main long-term drivers of growth are rising incomes and the availability of affordable travel as a direct result of the rapid expansion of low and ultra-low-cost airlines. The big picture is that, over the long term, airfares have fallen. The internet has made it easier for consumers to research and book travel, and passenger volumes have grown at around 1.5x global GDP. We expect both underlying drivers to continue supporting this trend for the foreseeable future.
We expect the multiplier of passenger volumes to GDP to be higher in the coming years due to a 'catch-up' in passenger volumes after the pandemic and the upward growth trend to continue, providing healthy long-term growth expectations for air passenger volumes.
1 ROIC Contenders Beyond Reopening – Initiate Cathay at Buy, D/G SIA to Sell, QAN Neutral (22 December 2022)
2 Bank Of America, Indigo, Ready Set Go as at December 2021