After steady declines in October, the DXY Index1 has fallen 4% month-to-date, leaving it on track for the biggest monthly fall since September 20102.
Recent FOMC meeting minutes had a more dovish tone, suggesting US monetary conditions may loosen.
Has the dollar hit its ceiling? That's the question investors were asking this week as the greenback extended recent declines.
A strengthening dollar from the start of the year had underlined its 'safe haven' status in the face of a maelstrom of challenging economic and political reads. However, a decline in US inflationary pressures and a more manageable geopolitical outlook has seen weakening appetite for the dollar.
Figure 1: A downward trajectory: the DXY Index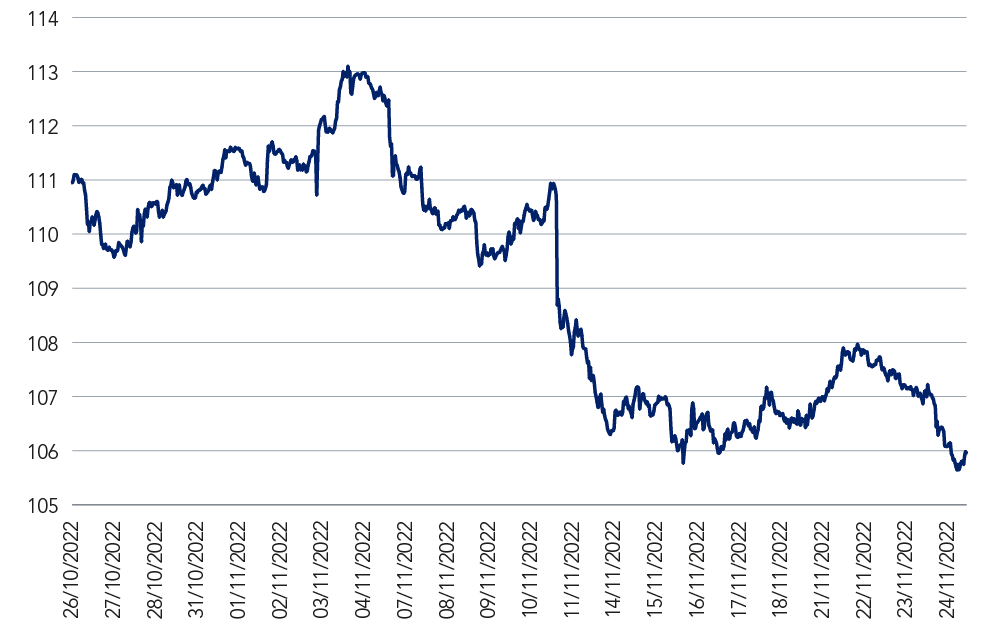 Source: Bloomberg, as at 24 November 2022.
For Silvia Dall'Angelo, Senior Economist, Federated Hermes Limited, this represents good news for emerging markets already saddled with pandemic-related debt – but also likely reflects expectations in financial markets that the Federal Reserve's hiking cycle is close to its peak.
She notes, however, that the declining dollar does put the Fed in an uncomfortable spot.
"The Fed is probably uncomfortable with the premature easing of domestic financial conditions driven by a weaker dollar, as inflation is still running too high," she notes. "This puts the bank's credibility on the line as elevated and broad-based inflation risks becoming embedded via second-round effects, against the backdrop of a tight labor market. While the latest US CPI data was somewhat reassuring, it does not make a new trend, and recently updated survey-based inflation expectations have been a mixed bag."
Elsewhere in global markets...
A surge in China's Covid-19 cases3 has forced the Beijing government to put key cities and regions once again into lockdown, despite progress made earlier this month in easing the country's draconian containment measures. Two major metropolises – Chongqing, a Southwestern trade and transport hub, and Guangzhou, the country's most prominent manufacturing centre – have reported major outbreaks and this could spell further disruption to global supply chains.
For Dall'Angelo, China's regression will see the forecasted Covid-exit pushed further into 2023. "While the shift from zero-Covid will be a lift to Chinese growth, recent events show us this will play out in a gradual and bumpy fashion, with progress likely to be concentrated in the second half of the year".
Figure 2: Spike in China Covid-19 cases look set to surpass level during Shanghai outbreak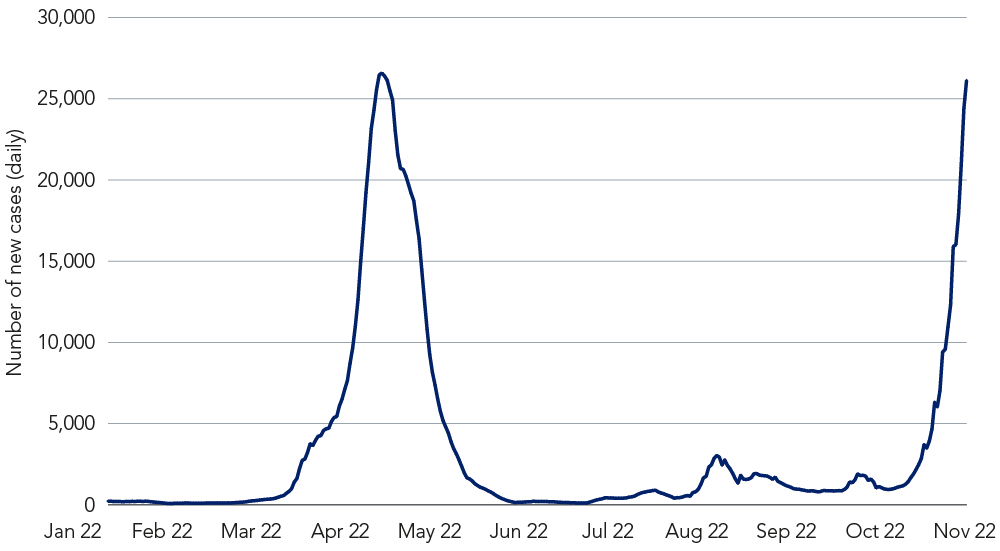 Source: Our World in Data, as at 22 November 2022.
For further insight on the dollar and its impact on emerging markets, read the latest report from the Emerging Market Debt team.
1 Measuring dollar strength versus a basket of currencies.
2 Refinitiv Datastream, as at November 2022.
3  Financial Times, as at 22 November 2022.