Beginnings: our DNA, culture and history are rooted in responsibility
In September 1983, we were set up to manage the pension funds of British Telecommunications (BT) and the Post Office – against a backdrop of financial deregulation, the privatisation of state-owned companies and trade-union reform.
In 1981, the telecommunications division was separated from the Post Office, and BT was created. The Post Office and BT were each responsible for looking after their pensionable employees, and so we were established as PosTel Investment Management.
We have engaged with companies from day one: in 1983, Chief Executive Ralph Quartano made his now famous intervention, admonishing the Marks & Spencer Board for the special loans they made available to directors. "It is important that St Michael", he said, "is on the side of the angels." (St Michael was a brand owned and used by Marks & Spencer until 2000.)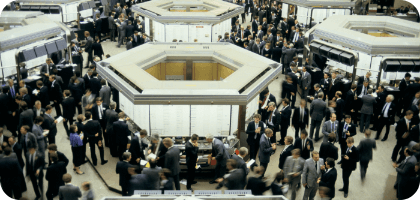 1986
Three years later, the City of London changed forever. In a single swoop on 27 October 1986, it was deregulated by Prime Minister Margaret Thatcher. The 'Big Bang', as it came to be known, revolutionised the City.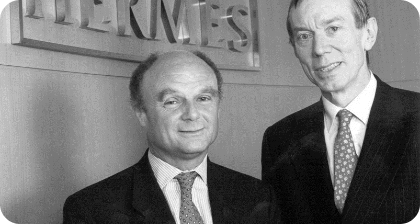 1993
The BT Pension Scheme (BTPS) was formed on 1 January 1993. Alastair Ross Goobey, a pioneering advocate of better corporate governance, took the helm as Chief Executive that same year.
In 1995, the trustees of the BT Pension Scheme purchased the Post Office scheme's holding in PosTel, becoming the sole shareholder in the process. We changed our name to Hermes Pension Management.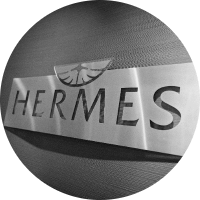 A year later, we decided to offer our investment services to third-party clients. The establishment of Hermes Focus Asset Management – under Goobey's leadership in 1998 – paved the way for institutional investors to add shareholder value by challenging boards and pushing for corporate-governance reform. The 'Focus funds' led high-profile campaigns for corporate change at some of Europe's biggest companies.
Breakthrough in corporate governance
Our mission to deliver Sustainable Wealth Creation for our clients began in the 1980s. Corporate governance in the UK only became a regular discussion point following the corporate collapses and scandals of that decade.
Goobey pressed for shorter CEO contracts among listed companies: he wrote to the chairmen of the 100 biggest UK companies urging them to scrap long-term rolling contracts for directors. He also called for separating the roles of CEO and chairman.
Companies began to listen, and Goobey's ideas were later adopted and developed by the Cadbury, Greenbury, Hampell and Higgs reports – which were eventually incorporated into the UK Corporate Governance Code, formerly known as the Combined Code.
In 1996, we established an investment team to focus on the corporate governance of companies.
We spent the 2000s and most of the 2010s operating as the in-house manager of the BT Pension Scheme (BTPS). And, in recent years, we've been building on these capabilities to develop a strong client base of wholesale and institutional investors worldwide.
The 2000s is often viewed as a lost decade for financial markets: it began with the dotcom bubble and ended with the global financial crisis. During this period of tumult, we transformed our business, expanding our client offering by launching strategies that span listed equities, credit, real estate, infrastructure, private equity and private debt.
Stewardship: at the vanguard since day one
Stewardship is – and always has been – the key to responsible investing and Sustainable Wealth Creation. It stands to both mitigate risk and a deliver positive impact by improving companies' environmental, social and governance (ESG) profiles.
We have been at the forefront of stewardship since 1983, when we made clear our commitment to serving the needs of our clients: the 400,000 beneficiaries whose money we managed. We understood that the investment decisions we made on their behalf would help shape future society.
In 2004, we founded our stewardship service, EOS at Federated Hermes. We launched EOS because we believed companies with informed and involved shareholders were more likely to achieve superior, long-term outperformance.
From a team of six, EOS is today one of the largest stewardship resources of any asset manager globally, with $1.75tn in assets under advice 1. EOS is now a large, diverse and multi-lingual team who work alongside a number of senior advisers.
We embarked on an exciting new chapter in April 2018, when Federated Investors (Federated), one of the largest investment managers in the US, announced an agreement to acquire a majority interest in our business from the BT Pension Scheme (BTPS).
For us, the transaction served as a growth opportunity. Together with Federated, we could form a truly global, active asset manager, leveraging Federated's extensive network of financial intermediaries in the US and our own fast-growing client base in the UK, continental Europe and Asia. Furthermore, our capabilities were complementary, as was our mutual commitment to stewardship.
In July 2018, Federated completed the acquisition. BTPS retained a 29.5% stake, and a 10.5% interest was placed into an employee benefit trust by BTPS for the benefit of certain management personnel and other employees.
In the same year, Federated filed with the U.S. Securities and Exchange Commission (SEC) for the Federated Hermes SDG Engagement Equity Fund – a 40 Act version of our SDG Engagement Fund. This marked the beginning of our distribution in the US and the first of five joint fund launches in 2018. In March 2019, the Responsible Investment Office (RIO) was created to integrate ESG factors and engagement into Federated strategies.
In February 2020, Federated Investors Inc., and Hermes Fund Managers Ltd. formally announced the rebranding of the two companies into Federated Hermes. Effective from 1 September 2021, The  Federated Hermes Limited has been a subsidiary of Federated Hermes, Inc since 1 September 2021.
Becoming Federated Hermes
Our story as a leader in investment and sustainability has been decades in the making – and an exciting new chapter is developing in our evolution as Federated Hermes.
Federated Investors, Inc. founded
Federated launches the first fund to invest exclusively in US Government securities
Federated creates the first institutional money-market fund and one of the first municipal bond funds
Hermes' predecessor is established & starts engaging UK companies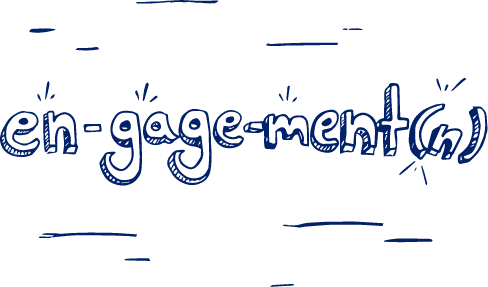 Hermes explains what investors should expect of companies in its landmark Responsible Ownership Principles
Hermes coins the term 'engagement' to help explain stewardship to international investors
Hermes EOS (now EOS at Federated Hermes) is founded
Hermes leads the drafting of the UN PRI and becomes a founding signatory
Hermes signs the UK Stewardship Code
Responsibility Office in London is established
Hermes creates what is now the Federated Hermes Pledge
Credit ESG-risk pricing model developed
Hermes launches Impact Opportunities and SDG Engagement Equity strategies
Federated acquires Hermes
SDG Engagement High Yield launched by Federated and Hermes
Responsibility Office in Pittsburgh is established
Federated Hermes brand launched
EOS passes £915bn in assets under advice
Saker Nusseibeh, CEO - FHL, awarded CBE for services to responsible business
We join the Net Zero Asset Managers initiative
Sustainable Global Equity and Climate Change High Yield Credit are launched
Biodiversity Equity is launched
You might be interested in…
Diversity, Equity and Inclusion
You might be interested in…
Diversity, equity and inclusion