Brazil is at the end of its monetary tightening cycle; inflation is slowing down, and the country is richly endowed in energy and commodities.
Since the start of the war in Ukraine, Brazil has seen inflows worth about US$9bn into local equities.
For bond markets, Lula's victory in the presidential election could mean a shift in fiscal policy as he seeks to deliver on his election promises.
Emerging market equities have had a torrid year. The MSCI Emerging Markets Index was down 29.4% year to date to end October1, against a challenging backdrop from the war in Ukraine, rising inflation, central bank tightening, a prolonged dollar rally and concerns about the outlook for China.
In contrast, Brazil has emerged as a relative emerging market (EM) 'safe haven' posting 21.15% during the same period, the second highest EM market return year to date, helping it to become the biggest overweight among global emerging market funds.
The economy has seen inflows worth about US$9bn into local equities2 since the start of the war in Ukraine and the Brazilian real has appreciated 4.8% year-to-date against the US dollar3, the third-best performing major currency this year.
Benchmark market returns (to end October)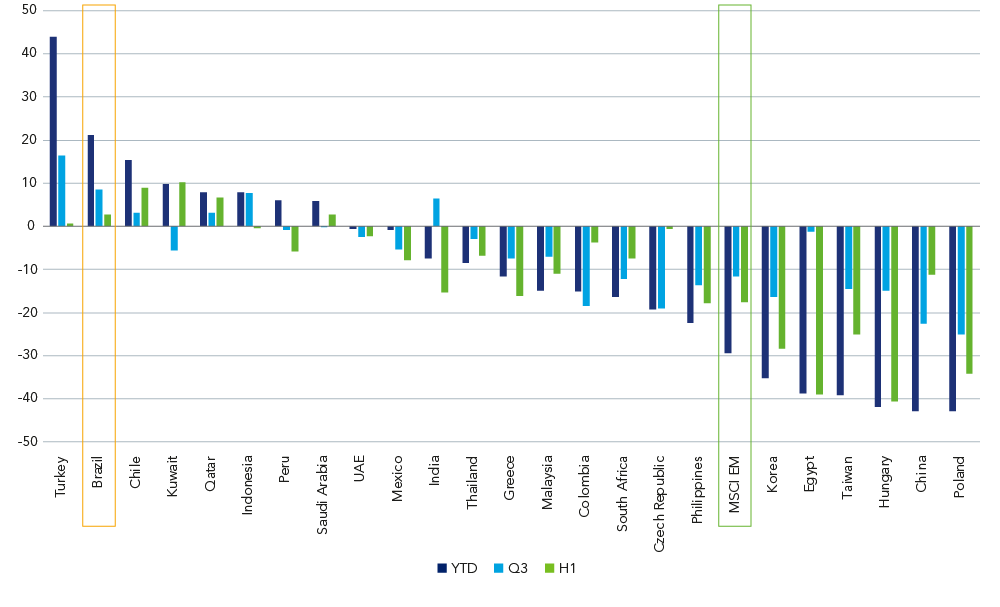 In Brazil's October run-off election, former two-time president Luiz Ignacio Lula da Silva narrowly beat incumbent President Jair Bolsonaro. The initial 9% post-election rally in the local Bovespa index came as investor concerns about post-election unrest eased and the choice of pro-business centrist Geraldo Alckmin to lead the government transition team boosted sentiment. Alckmin will play an important role in keeping market expectations well-anchored, especially until the new finance minister and other members of the cabinet are announced.
Brazil's market rally was in marked contrast to the sell-offs which greeted election victories for far-left populist candidates Andres Manuel Lopez Obrador who won in Mexico in 2018 (-10%); and Pedro Castillo in Peru (-10.2%); and Gabriel Boric in Chile (-10.5%) who won election in 2021.
Post-election rally fades
Brazil's post-election rally, however, faded in the days that followed amid rising concerns about Lula's fiscal plans and uncertainty over who will be his pick for key economic roles. While attending the COP27 Egypt in mid-November, Lula said he will only start considering cabinet appointments later in the month, despite investor concerns about who will occupy the key position of economy minister. Most political consultants think Lula will pick a politician, as he did during his first term. Markets are hoping he opts for a centrist like Henrique Meirelles, who served as central bank president during Lula's first presidency.
For bond markets, Lula's win could mean a shift in fiscal policy as he seeks to deliver on his election promises, such as maintaining the cash-transfer programme Auxílio Brasil at R$600 per month, increasing the minimum wage and subsidised housing for the poorest Brazilians. Credit rating agency Moody's said Brazil's fiscal credibility would be at risk if Lula moves forward with a plan to boost public spending next year beyond investors' current expectations.
In contrast to China's Xi Jingping who also recently secured a third term in office and unfettered control of the Chinese Communist Party, Lula's presidency will be constrained. While incumbent Jair Bolsonaro lost the election, his Liberal Party (PL) showed strength in the Senate elections, electing eight new Senators and becoming the largest party in the Senate (with 13 representatives). Parties considered right of centre-right now have 51 seats in the Senate (out of 81), a decisive majority of 63%. These same parties elected 300 Lower House representatives, or 58.5% of seats which reinforces moderation.
The centre-right-leaning congress makes approval of extreme measures difficult and decisions on the government budget – such as taxes, a spending waiver, a new fiscal anchor etc – will be intensely negotiated. We therefore expect continued sound fiscal policy going forward.
Regionally, Federated Hermes Global Emerging Markets Equity strategy moved to overweight Latin America in the early part of the year as the commodity cycle turns and certain resources appear substantially undersupplied. Beyond the next couple of years, the odds do favour a period of sustained outperformance for Latin America in the coming decade.
Brazil is well-positioned to benefit from elevated commodity prices, and the Central Bank of Brazil's move to hike fast and early means that Brazil has one of the most positive real interest rates globally, bolstering its ability to weather tighter global financial conditions as the US Federal Reserve continues to raise rates. Brazil is at the end of its monetary tightening cycle, inflation is slowing down, the country is richly endowed in energy and commodities, and geopolitically isolated from the war in Europe.
Additionally, Lula's environmental stance marks an important shift away from Jair Bolsonaro's record on deforestation and will be seen as a positive development by foreign investors. While these developments bode well for Brazilian assets, the key question mark going forward is who will occupy the position of economy minister and the fiscal outlook. In the interim, unorthodox fiscal comments from Lula will give investors a sense of 'déjà vu'.
For more information on Global Emerging Markets Equity please click here.
1 Bloomberg as at 31 October 2022 (USD terms)
2 Bloomberg as at 7 November 2022
3 Bloomberg as at 31 October 2022