Asia enjoys a range of structural advantages that potentially make the region more resilient than developed economies in the face of growing cyclical and structural economic headwinds.
A range of megatrends including decarbonisation, technological innovation, demographic shifts, an expanding middle class, premiumisation and localisation will drive secular opportunities in the region.
Majority of new middle class to come from Asia

Source: World Data Lab   * Defined as earning $11-110 per day
As developed markets falter, Asian economies will become an even more important driver of global growth; India in particular has huge potential to follow China's past trajectory of rising GDP.
Growth projections for Asia outstrip the rest of the world
Growth projections by region:
Source: IMF, World Economic Outlook Update, July 2022
International cooperation:
Trade agreements such as the Regional Comprehensive Economic Partnership (RCEP) will boost intraregional trade.
Increasing domestic focus:
As globalisation moves into reverse, Asian economies, particularly China, have a potential to drive growth on the back of rising domestic consumption by increasingly affluent populations. In addition, de-globalisation is likely to benefit emerging economies such as Mexico, India, and Vietnam creating new manufacturing jobs and a vibrant industrial economy, further encouraging consumption.
The consumer class is shifting East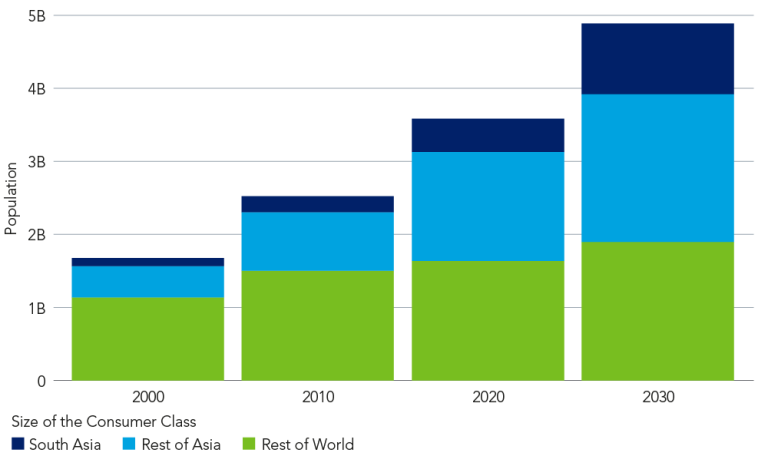 Source: World Data Lab projections
Less hawkish monetary environment
Inflationary pressures are less marked in Asia, requiring less central bank intervention.
In addition, a build-up of large foreign exchange (forex) reserves provides Asian
central banks with sufficient firepower to counter any pressure on the currency.
Concerns around China's handing of the Covid pandemic and volatility in the country's property market has weighed on the valuation of Chinese equities. Meanwhile, the global slowdown and the build-up of microchip inventory has had an impact on equity valuations in South Korea and Taiwan, on top of concerns about geopolitical tensions. As a result, valuations in many emerging Asian economies trade at an attractive discount to developed markets.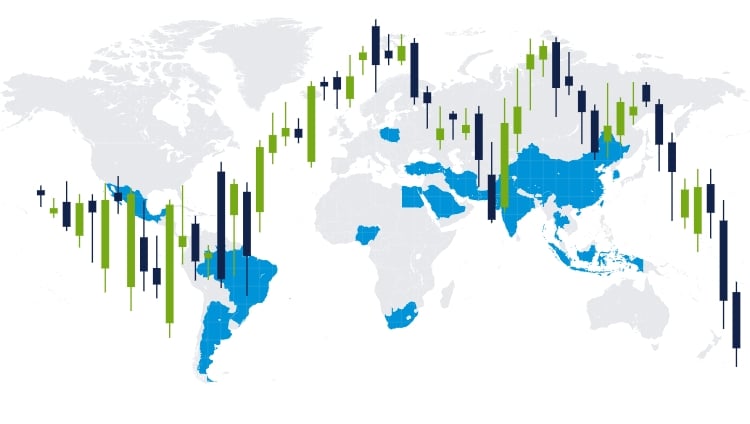 Asia at the heart of our EM solutions
Opportunities in Asia are at the forefront of our range of emerging markets solutions:
Want to know more about our experience in EM and Asia?