Optimism that China's scrapping of its strict zero-Covid controls would boost the global economy has been tempered by weaker-than-expected data in May on retail sales, industrial output, and investments. But this short-term blip needs to be viewed in the context of the vast technological and demographic shifts underway in the world's second largest economy that could shape global commerce for decades to come, according to speakers at the Federated Hermes Asia and Emerging Markets Investing Forum at the Westin London City hotel in London on 13 June.
During his presentation on the themes shaping emerging markets in 2023 and beyond, Kunjal Gala, Head of Global Emerging Markets at Federated Hermes Limited, set out his long-term outlook for the asset class in the aftermath of the Covid-19 pandemic.
The investment landscape post-Covid has fundamentally shifted
"Over the last three years, the world has gone through a lot – supply chain disruption, the Ukraine crisis, an energy squeeze, inflation, rising interest rates and an increase in the cost of capital – but for perhaps the first time in history, emerging markets have not suffered significantly more than the developed world [as a result of these pressures]," Gala said.
"The investment landscape post-Covid has fundamentally shifted… and the credit-led growth which the world had become used to is unlikely to come back anytime soon," he continued, outlining why he expects the growth differential between emerging and developed markets to continue to diverge, in emerging markets' favour over the next few years on the back of better inflation management, greater fiscal room, access to commodities, industrialisation, and demographic trends.
Figure 1: Growth differential between emerging and developed economies set to widen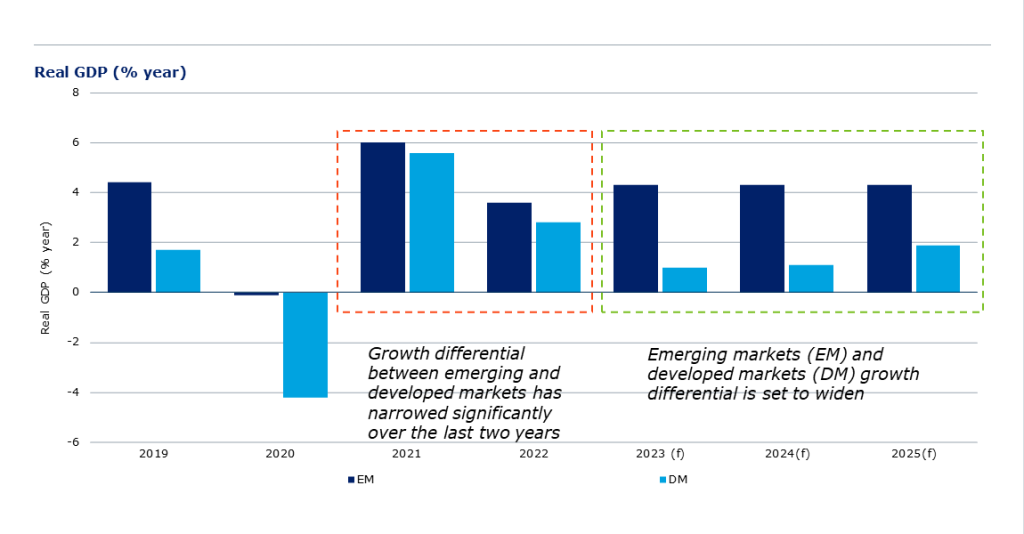 "China is undergoing a significant transformation. At the present time there is disappointment about China's post-Covid reopening because consumers have not been spending as they had been expected to. But at the end of the day, we are long-term investors and try to look beyond the next few quarters. In a number of areas – such as automation, renewables and electric vehicles – Chinese companies are making a difference, not just domestically but globally. Structural shifts are underway that are largely being ignored by many investors," Gala added.
In his presentation, 'Chinese equities – contrarian opportunities in a growth-dominated asset class', Jonathan Pines, Head of Asia ex-Japan, Federated Hermes Limited, looked at how listed Chinese companies are trading at discounts unseen for more than two decades relative to the rest of the world. "The last time Chinese shares were as cheap as they are now it was in the aftermath of the Asian financial crisis in 1998. Now we find ourselves there again," Pines said.
A number of factors have led international investors to shun Chinese equities, including US-China tensions, the Beijing government's muddled handing of the Covid-19 pandemic and underlying issues in the country's property market. Pines outlined why he believes the business environment in the China is improving as the Beijing authorities adopt a more supportive and pragmatic approach, and he also touched on signs of a tentative rapprochement between China and the US.
A panel discussion on engagement in emerging markets looked at whether investor interactions with holdings in China can be effective in encouraging sustainable practices. "There is such a huge diversity of companies in China. Some are engageable and some are not," said Olivia Lankester, Director – Responsible Investing & Sustainability, Global Emerging Markets (GEMs), Federated Hermes Limited, citing the progress her team has made with holdings such as Alibaba and JD.com. The GEMs team weighs up a management team's capacity to engage whenever it looks at a potential new holding, which is factored into any final investment decision, Lankester added. "We make that judgement through an upfront dialogue with management," she said. Other speakers on the panel included Federated Hermes' Leon Kamhi, Ross Teverson, and Judi Tseng.
Another panel on effective emerging markets allocation included  Alan Higgins, Chief Investment Officer at Coutts, Alena Kosava, Head of Investment Research at AJ Bell and Nick Wood, Head of Investment Fund Research at Quilter Cheviot. The keynote speech was by James Kynge, Global China Editor at the Financial Times.
For further information on Federated Hermes Asia and Emerging Markets capabilities please click here.