The slowdown in US auto sales and the heavy use of financing deals by car buyers have driven Ilana Elbim, Credit Analyst at Hermes Investment Management, to take a cautious stance on the sector.
The US automotive sector has shifted up through the gears since the 2008 financial crisis. Seasonally adjusted annual sales (SAAR) of new cars and light trucks reached a peak of 17.6m in 2016, higher than the 16.2m recorded in 2007 and 10.4m as the crisis unfolded in 2009.
By interrogating the data, we find that light trucks – including pick-up trucks, sports utility vehicles and crossovers – have led the ongoing recovery since 2015 as passenger-car sales began to decline (see figure 1). This demand was driven by factors including evolving consumer preferences, lower oil prices and manufacturers' aggressive use of discount incentives.
Macroeconomic conditions also helped fuel the recovery, enabling automakers to offer financing to potential buyers at low interest rates and with longer terms. Immediately after the crisis, the proportion of vehicles bought through finance was in the mid-70% range but today it stands at 85%.
Figure 1. The US auto sector's recovery has been driven by light-truck sales

Source: Bloomberg as at February 2018
Yet vehicle sales in the US are slowing. Volumes may have exceeded 17m again in 2017 and in early 2018, but growth has decelerated: passenger-car sales growth has experienced a double-digit fall and truck sales are also slowing as demand for replacements following the hurricanes of late 2017 weakens.
If we compare US auto sales year on year, data for March shows that sales rose 4% from the same month in the previous year, which has surprised the upside given this breaks with a few months of constant decline. However, if we look a little deeper, it becomes clear that this breakthrough is actually due to continued high incentives level. On average, discounts have exceeded 10% of manufacturers' recommended sale prices in the last 20 months, a figure considered high enough to affect resale values. The aggressive discount incentives provided by automakers have gone so far that it is now difficult to increase them further (see figure 2).
Figure 2. Monthly incentives from US automakers have risen consistently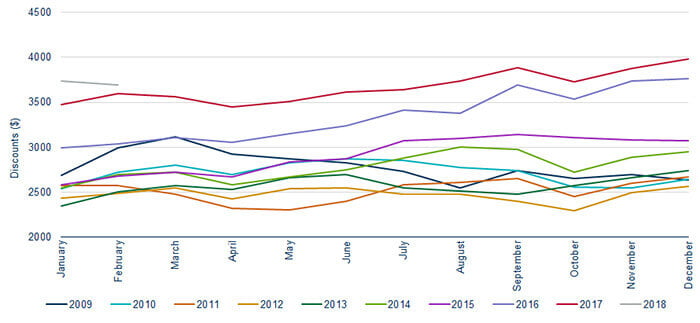 There are further obstacles. The popularity of vehicle leasing in recent years will lead to a glut of used cars on the US market as leases end in 2018 and 2019. This additional supply will depress values in the used-car market, and that in turn means that the monthly cost of taking out a lease will have to rise to compensate for higher expected depreciation, slowing new-car demand.
Another worry is credit terms, which have started to worsen and could deteriorate further if US interest rates continue to rise, increasing monthly car payments, which could stall purchases of new cars.
Auto majors still have some gas in the tank
Major automakers, such as GM and Ford, have worked hard to reduce their cost bases in order to be able to reach break-even if monthly US auto sales fall towards the 10-11m range. Both businesses have geographically diversified operations, with GM selling 76.5% in North America and Ford selling just 59.6% there, according to the companies. They benefit from strong balance sheets, and report good profitability levels, with GM enjoying margins of 10.7% and Ford 8% in North America.
The businesses have net cash positions in their industrial arms and good cash-flow generation, with GM reporting free operating cash flow of $5.5bn and Ford $2.5bn for the 2017 financial year. GM is investing heavily in the latest auto-sector megatrends, enabling it to be well placed to meet demand for new products, particularly electric vehicles (EVs). The firm has allocated capital expenditure of $8.4bn to EVs, while Ford is investing $7bn.
GM recently posted a double-digit increase in vehicle sales for March compared with the same month last year. The company saw sales surge across all of its brands and also reported a reduction in inventory. Also, contrary to Ford, GM reported not only a good sales increase in fleet sales, but also in retail sales.
With strong balance sheets and diversification strategies, these major automakers are able to keep their foot on the pedal, but those with an additional disadvantage of a weaker balance sheet and lower geographical diversification will clearly be more impacted by a slowdown in the US of new car sales.