Economic data released this week from the preliminary flash survey of the S&P/CIPS Purchasing Manager's Index (PMI) indicates that some major economies appear to be expanding, rather than contracting, surprising to the upside and extinguishing fears of an imminent recession.
In the UK, the index rose to 49.2 in February from 47 in January, beating market forecasts of 47.5.1
In the Eurozone, activity increased for the second consecutive month with the index rising to 52.3 from 50.3 in January.2
Major global economies have proved more resilient than expected, according to a gauge of market activity in February.
Survey results indicate this change in sentiment stems from improving business confidence and rising customer demand, as clouds of economic uncertainty appear to lift amid falling inflation and a decrease in supply shortages.
Figure 1: S&P Global/CIPS UK PMI – index points to further recovery in manufacturing sector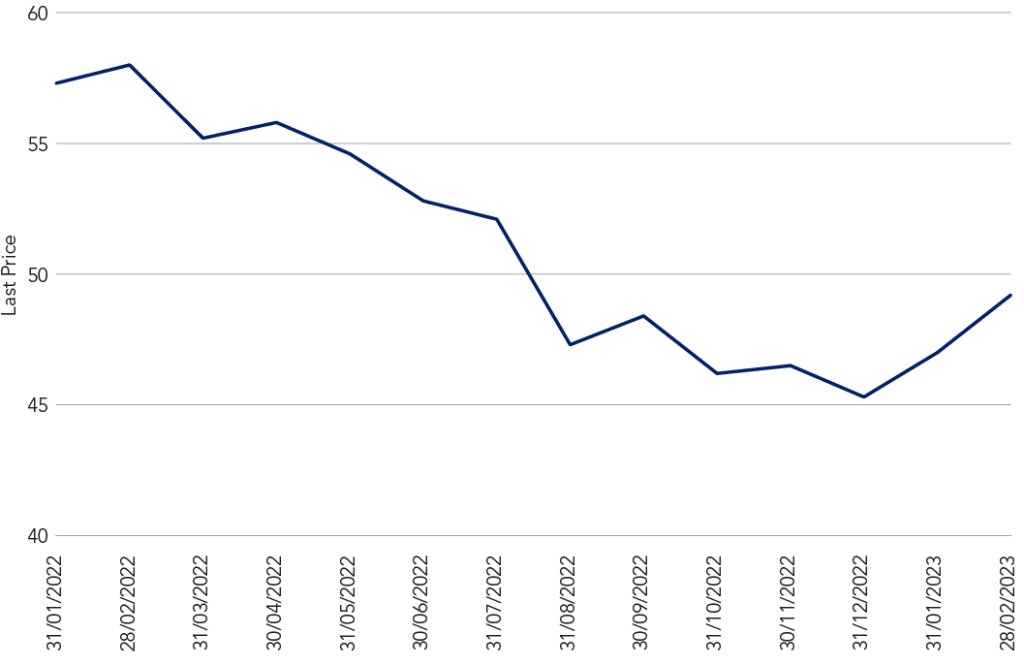 Source: Trading Economics, as at 23 February 2023.
However, Silvia Dall'Angelo, Chief Economist at Federated Hermes Limited, warns that if economic resilience and inflation stickiness persists, central banks will be forced to push rates higher which could cause economies to contract.
"The current pick-up in economic activity data just adds to uncertainty about the timing of the next US recession, which might happen later in 2024 rather than in the second half of the year – which remains my base case."
Furthermore, Dall'Angelo notes that this unclear data is hardly surprising given the abnormality of this economic cycle, defined most notably by a series of extraordinary supply shocks resulting from the Covid-19 pandemic, the fallout of the Russia/Ukraine conflict and subsequent policy responses.
"The unseasonably mild weather in January and February in most parts of the US and Europe fuels doubts about the sustainability of the recent activity pick-up. All this makes for an outstanding issue for data-dependent central banks", she adds.
If economic resilience and inflation stickiness persists, central banks will be forced to push rates higher which could cause economies to contract.
Geir Lode, Head of Global Equities at Federated Hermes Limited, echoes this sentiment and agrees this unexpected show of strength will likely fuel inflation and force central banks to pursue a more aggressive tightening cycle, keeping rates higher for longer in order to dampen demand and bring inflation back to target.
"While many in the 'real world' would cheer this surprisingly strong start to 2023, equity markets struck a different tone this week with the S&P 500 recording its worst day in months on Tuesday, and the VIX and Treasury yields climbing to three-month highs," He said.
Looking ahead, signals are mixed. Against this backdrop of market volatility and anticipating swings in sentiment due to the influx of macroeconomic news, the Federated Hermes Global Equities team recommends maintaining a diversified portfolio and a robust attitude to risk management.
Global investment bank Citigroup revised its January inflation forecast on Wednesday, with the latest projections indicating UK inflation will plummet from double-digit territory to 2.3% in the fourth quarter. This forecast sits well below the Bank of England's (BoE) current prediction that inflation will remain at the 4% in November and reflects a continued easing in pricing pressures.
This decline will be supported by recent changes to the Consumer Price Index (CPI), after the Office for National Statistics raised the weighting for electricity and gas from 3.6% to 4.8%3. This higher weighting is likely to pull down inflation more rapidly.
To hear more about our macroeconomic outlook for the upcoming quarter, please read our latest edition of Ahead of the Curve.  
1 Markit Economics, S&P Global/CIPS Manufacturing PMI, as at 23 February 2023.
2 S&P Global Flash Eurozone PMI, as at 1 February 2023.
3 Office for National Statistics, as at February 2023.