Two oil and gas companies, Chevron and Occidental, recently submitted proposals to acquire their peer Anadarko. Audra Stundziaite, Deputy Head of Credit Research at Hermes Investment Management, explores the theme of consolidation in the energy sector and asks: will the deal presage a new buying spree in the Permian Basin?
A wave of M&A activity has been expected in the US oil and gas industry for some time. However, until the recent Chevron-Anadarko announcement and subsequent bid from Occidental to also acquire Anadarko, a lack of deal activity in the sector prompted investors to question the consolidation theme.
On 12 April, oil major Chevron announced its intention to acquire US exploration and production company Anadarko, for an enterprise value of $50bn1. The deal values the equity at $33bn, which Chevron will fund with shares ($25bn) and cash ($8bn)2 – and it is the first large M&A deal from a major integrated oil company since the decline in crude prices began in 20143. Subsequently, on April 24th, Occidental made an offer for Anadarko for a total enterprise value of $57bn, with an equity portion valued at $38bn. We are yet to find out whether Chevron will make a counter-offer.
The importance of scale in an industry inherent with cash flow volatility
The acquisition of Anadarko would help both companies to substantially strengthen their operating portfolio by adding more than 10bn barrels in the Permian Basin, deep-water Gulf of Mexico and Anadarko's Mozambique LNG project.
Pending on the ultimate outcome of the transaction, Chevron or Occidental would become the largest Permian Basin producer in the US. Indeed, as shale is shorter-cycle and thereby less risky than mega projects, Chevron's and Occidental's move represent an effort to high-grade their operating portfolios.
In addition, both companies stand to benefit from substantial annual synergies – approximately $2bn for Chevron, compromised of $1bn operational savings and $1bn capital efficiencies4 and $3.5bn for Occidental, comprised of $2bn of operating savings as well as $1.5bn5 of capital expenditures efficiencies.
In our view, the proposed transactions by both companies to acquire Anadarko highlights the strategic importance of scale, lower costs and efforts to de-risk operations in an inherently volatile commodities environment.
Further consolidation is on the horizon
We believe consolidation in energy space will continue in the following ways:
larger, better capitalised companies will acquire smaller shale or offshore players to create more contiguous acreage positions; or
smaller companies will merge to benefit from larger scale developments6
To our mind, further consolidation would allow companies to lower costs and accelerate the transition to growth through cash flow – a dominant theme in the energy sector since autumn 2017.
In addition, valuation multiples for some energy companies are potentially still attractive, given their underperformance against the S&P 500 and the oil rally this year (see Figure 1).
Figure 1: Anadarko has underperformed the S&P 500 in 2019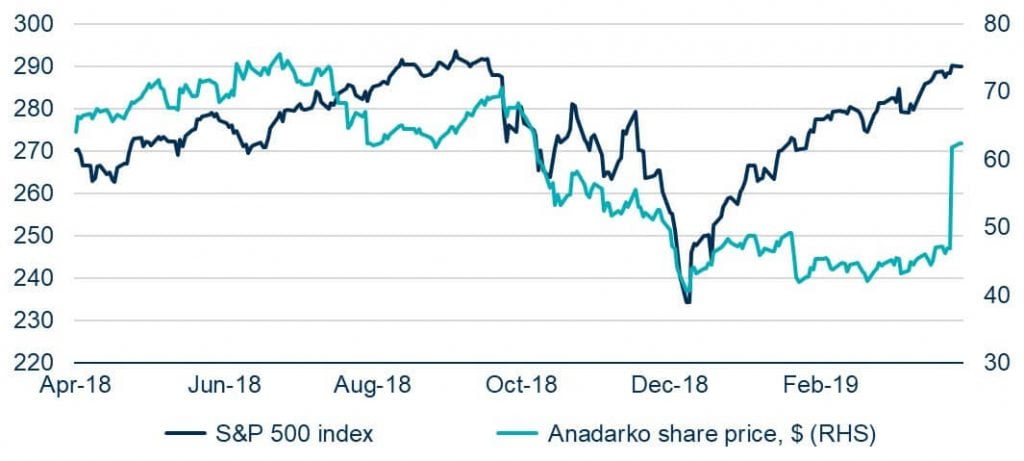 Source: Bloomberg as at April 2019.
Global credit markets are wide open, particularly for high-quality energy issuers
To fund the transaction, Chevron will need about $8bn of cash along with $2.5bn of maturities in 20197. And while the company had $9.4bn of cash at the end of 20188, we would not be surprised if it decided to tap unsecured capital markets to fund a portion of the deal (historically Chevron has operated with a high cash balance). Occidental's funding needs would be more substantial – approximately $19bn, but the company is guiding to $10-15bn of assets sales in the next 12-24 months to partly help with the funding.
Both companies have relatively strong credit profiles, with Chevron rated at Aa2 Stable from Moody's and Occidental rated at A3 Watch Negative from Moody's, as the proposed transaction could be more leveraging for Occidental. Either way, we do not expect the companies to have any problems in accessing unsecured debt capital markets, especially in a favourable oil environment with WTI trading at ~$65 dollars per barrel.
Why is the deal positive for energy credit?
The Chevron-Anadarko merger announcement and subsequent bid for Anadarko by Occidental reaffirmed that the consolidation theme is still very much in play in the energy sector. On the day that Chevron deal was announced, it was very well received in both credit and equity markets, with the majority of US investment grade issuers trading 10-30bps tighter, high yield issuers up 0.5-2bps and Permian-exposed equities rallying 8-10%.
With significant potential for further consolidation in the energy sector, we believe that it is important to own names that are attractive both on their own and as potential beneficiaries of the consolidation trend. These include: current holding Plains All American (PAA), a midstream company that benefits from growing volumes in the Permian Basin; one of our holdings Hess, an exploration and production company that has an offshore joint venture with Exxon in Guyana; and WPX Energy, another exploration and production company we invest in with high quality acreage in the Permian Basin.
Of course, a deal for Anadarko raises the inevitable question of who's next. The transaction has undoubtedly reinvigorated the energy industry – and so, we will watch this space.