Inflation data added to a bruising week for markets as leading indices fell
The full impact from the increase in commodity prices due to the conflict in Ukraine has yet to make its way through into consumer prices
The latest US inflation data released this week sent ripples through markets, as investors took stock of the fact that despite the Federal Reserve's efforts, consumer prices remain stubbornly high.
The US consumer price index (CPI) rose at an annual pace of 8.3% in April – slightly down from the 8.5% increase recorded in March – but still higher than many expectations1. The Federal Open Market Committee raised rates by half a percentage point on 4 May, the most aggressive single increase in two decades, following a quarter of a percentage point at its March meeting, and signalled similar moves were on the cards in the next two meetings
"Macroeconomic concerns have continued to weigh heavily on the equity markets this week, as stagflation and recession fears continue to dampen investor enthusiasm," says Lewis Grant, senior portfolio manager – global equities at Federated Hermes2.
"As a result, this Wednesday's US CPI print was perhaps the most eagerly anticipated in recent history, particularly for growth investors with high duration names forming the bulk of their portfolios: the core CPI increase of 0.6% (vs. 0.4% expected) would not have been welcome news."
A bumpy week for equity markets got worse following the inflation data, with the tech-heavy Nasdaq Composite closing down 3.2% on Wednesday and the large-cap S&P 500 ending the day 1.6% lower3. Growth stocks, which are seen as particularly sensitive to rising rates, led the declines, with value stocks, in defensive sectors such as energy, among the few areas holding up.
"As long as the war in Ukraine continues and macro pressures persist, it's likely that both energy names and value stocks will remain relative safe havens for fully invested, long-only equity investors," Grant says.
US inflation might have peaked in March, but it will likely remain sticky at elevated levels for the balance of the year, reflecting considerable external and domestic price pressures that are still in the pipeline, says Silvia Dall'Angelo, senior economist, Federated Hermes. "The full impact from the increase in commodity prices due to the conflict in Ukraine has still to make its way through into consumer prices, with food and transportation services likely to record further large increases in coming months," she says.
Under pressure: Key equity indices year to date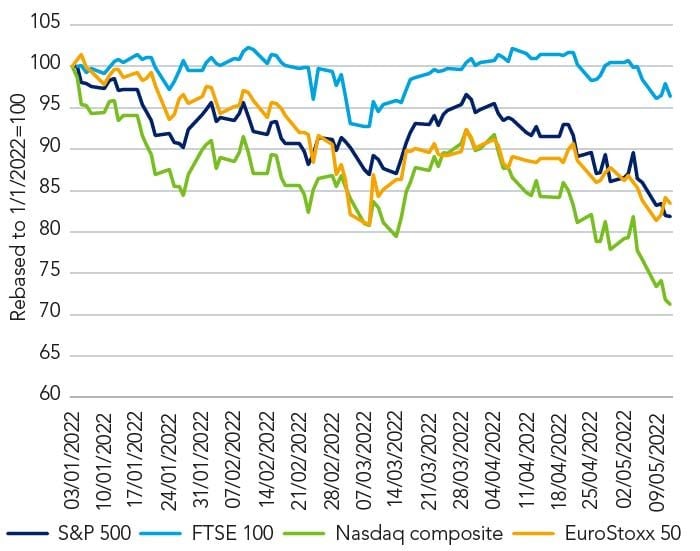 Source: Bloomberg as of 12 May 2022.
Over in Europe, the European Central Bank president Christine Lagarde gave the clearest signal yet that it will raise rates as soon as July to tackle soaring inflation. Eurozone inflation hit a record 7.5% in April4.
European stocks have also had a bruising week. The pan-European Eurostoxx 50 Index closed down 0.80% on Thursday while the UK FTSE 100 was down 1.46%. Over the last month the Eurostoxx 50 is down 5.55% and the FTSE 100 is down 4.44% as at 12 May as expectations that many economies will enter recession this year increase5.
In bond markets, the yield on the two-year US treasury, which is most sensitive to the outlook for monetary policy, had fallen to 2.58% at 15:22 GMT on Thursday, down from a high of 2.73% the day before. The yield on US 10-year treasuries, meanwhile, stood at 2.87% after breaching 3% last week6.